The El SID was well-known for being a durable, reliable and effective pump. Recently though, it has dropped off the market and many people are wondering what pump could be a good replacement.
The D5 Solar Hot Water Pump
Our D5 Solar Hot Water Pump is an excellent choice for a replacement. It is very similar to the El SID and as well as the Laing D5.
Our D5 Solar Hot Water Pump is superior to these pumps in a few different ways. For example, the Laing D5, has overheating issues due to its spherical motor. Our D5 is equipped with a highly efficient ECM brushless DC motor that does not overheat easily.
Furthermore, the SID pump does not have MTTP (Maximum Power Point Tracking) functions. This function automatically calculates the optimal voltage for the pump to work at its best. The D5 is designed with a variable speed function which allows the user to choose the speed they prefer and allows the pump to handle the fluctuations in electrical current produced by solar panels.
Similar Motor Design
El SID stands for static-impeller driven, meaning it doesn't have any moving parts but relies on a magnetic field. The D5 pump runs on a ECM brushless, DC motor with a static-impeller. The DC brushless motor is made with energy efficient technology. It uses MPPT and equipped with a variable speed dial.
The D5 has a soft start-up feature which allows it to handle the slow rush-in of current making it perfect for working directly with PV panels. When the PV panel has enough power, the pump turns the rotor until full power is obtained. Cycling can be a concern but thanks to the soft start-up unsuccessful attempts at starting are low.
Another concern is our health when we use pumps. The D5 is currently the world's only all stainless steel solar hot water circulating pump. It is safe and reliable due to its design: food-grade stainless steel. The pump is resistant to acidic fluids and is lead-free.
Uses of the D5 Pump:
Beer brewing
Liquid transfer
Solar water heaters
Hot water circulation
Hot pump air conditioners
Radiant floor heating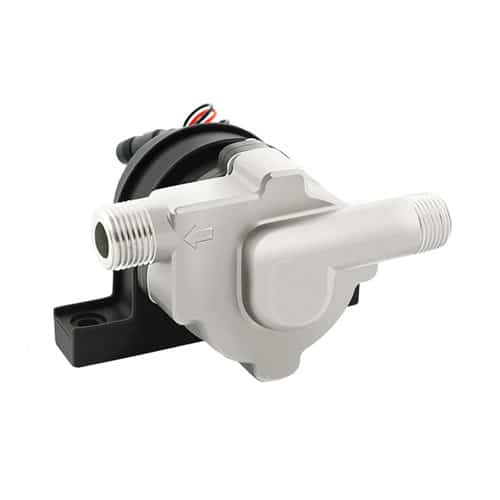 The D5 Solar Hot Water Pump is a perfect replacement for the El SID. If you have any questions or doubts, feel free to contact us and we'd be happy to help you!
Visit our Social Media pages for more updates on our pumps: Facebook, Twitter, Instagram and YouTube.