12V 20-Watt Solar Panels
$51.28
SE-SF-20W
Max Power (Pmax) – 20W
Open-circuit Voltage (Voc) – 14.4V
Short-circuit Voltage (Isc) – 1.76A
Optimum Operating Voltage (Vmp) – 12V
Optimum Operating Current (Imp) – 1.67A
Temp Coefficient of Pmax – -0.45%/C°
Temp Coefficient of Voc – -0.37%/C°
Temp Coefficient of Isc – 0.1%/C°
Max Snow/Wind Load – 2400 Pa
Max System Voltage – 1000V DC
Dimensions – 14.2″ x 13.2″ x 0.7″
Description
Why do US Solar Pumps carry 12V 20-Watt Solar Panels?
Primarily because 12V solar panels are not the norm. Our S5 Solar Pumps work best off of a 12V solar panel.
All solar panels, by nature, start building current as the sun rises. At peak sun they will also peak over their rated voltage.
Our S5 Solar Hot Water Pump is a 12V pump that is designed to handle the slow buildup of current as it spins up to full speed. It will not be adversely affected by the peak voltage a 12V solar panel produces at full sun.
Occasionally what happens is that a customer will unknowingly connect their pump to a solar panel that has a voltage that the pump will run on but will produce a peak voltage outside of the pump's range. Then when the peak voltage is obtained, the S5 pumps over-voltage protection will kick in and shut the pump down. This results in the customer thinking that the pump is defective.
As a side note, our pumps will only draw the wattage and amperage they need. It is only voltage that is important. Therefore, if your wattage is higher than the pump minimum requirement it will not affect the pump. In fact, often customers will choose a slightly higher wattage panel because it will spin the pump up to full speed a little earlier on the morning.
Specifications of our 12V 20-Watt Solar Panels:
Max Power (Pmax) – 20W
Open-circuit Voltage (Voc) – 14.4V
Short-circuit Voltage (Isc) – 1.76A
Optimum Operating Voltage (Vmp) – 12V
Optimum Operating Current (Imp) – 1.67A
Temp Coefficient of Pmax – -0.45%/C°
Temp Coefficient of Voc – -0.37%/C°
Temp Coefficient of Isc – 0.1%/C°
Max Snow/Wind Load – 2400 Pa
Max System Voltage – 1000V DC
Dimensions – 14.2″ x 13.2″ x 0.7″
Uses of our 12V 20-Watt Solar Panels:
This solar panel can be used with most of our pumps and the It is perfect for an off-grid set-up or to reduce your electricity bill.
It works well with our S5 Solar Hot Water Pump and when combined with our CWX Ball Valve, as pictured below, is perfect for customers who deal with thermo-syphoning at night when the pump shuts down.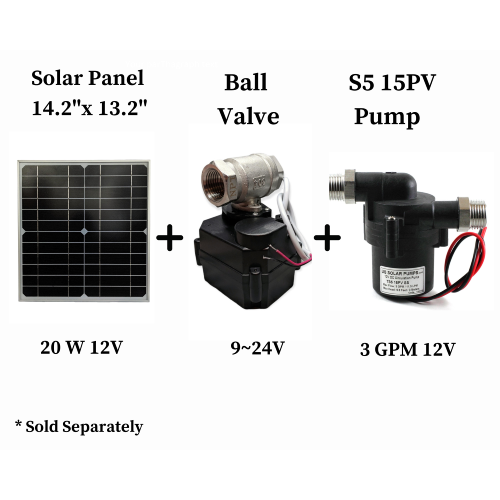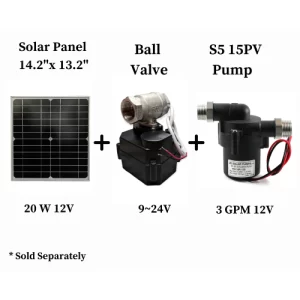 Warnings:
1. This 12V 20-Watt solar panel generates electricity as soon as it is exposed to light. Any work including wiring should follow relevant safety standards and should be carried out by an appropriate and qualified person.
2. Do not damage or scratch the surface or the solar panel.
3. Expose the solar panel to sunshine without any shade.
4. Refer to the instruction manual for more details.
If you need more information or have questions about our 12V 20-Watt Solar Panels, please feel free to contact us. We'd be happy to answer your questions.