We are very excited to share with you the news that we now carry solar panels! We have two to add to our catalogue: the 12V 10-Watt and 20-Watt Solar Panels. Over the years we have sold many DC and solar powered pumps but one thing we were missing were solar panels!
Why do we now carry 12V Solar Panels?
Primarily because 12V solar panels are not the norm. Our solar pumps, especially our S5 series, work best off of a 12V PV panel.
Solar panels start building current as the sun rises and at peak sun they will also peak over their rated voltage, which can cause the over-voltage protection design in the pump to activate and shut off.
Having the right solar panel with the right voltage will keep your pump in its best condition and you won't have to worry about over-voltage.
The 10-Watt 12V Solar Panels
The 10-Watt PV panel pairs perfectly with our 12V S5 Solar Hot Water pump and our CWX Ball Valve, as pictured below: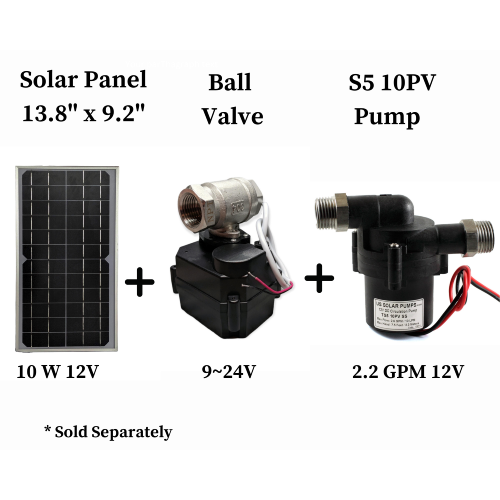 The 20-Watt 12V Solar Panels
This PV panel is perfect for customers who want their pump to come to full speed a little earlier in the morning. The wattage can be higher than the pump's minimum requirement without adversely affecting it.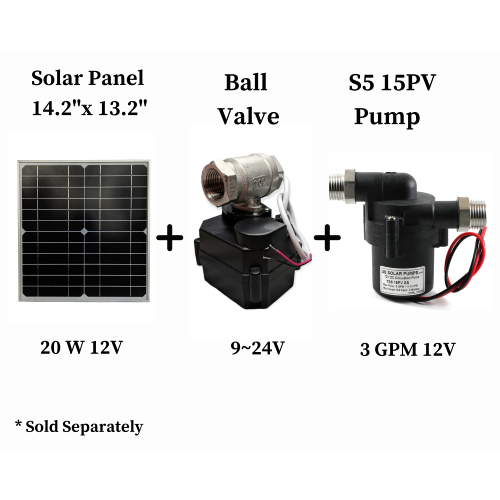 If you have any questions or doubts, please feel free to contact us. We'll be happy to help you.
Follow us on Facebook, Twitter, Instagram, Pinterest, and YouTube for posts and updates to our shop. Also, take a look at our blog posts: Do you have to submerge a submersible pump? and A New Ball Valve for Thermo-syphoning.